Graphic Designer FAQ Part 1
"What does a graphic designer do?"
I get asked that question a lot, and since a lot of companies offer graphic design services in addition to their other services, it's understandably a little confusing.
The short answer: A graphic designer takes your branding and messaging and creates something visually attractive that conveys your message.
The long answer:
My favorite definition of graphic design is that it's visual problem solving. A graphic designer's main goal is to convey a message through text and imagery. The message needs to be easy to understand, true to the company's branding and personality, and aesthetically pleasing. For example, if a graphic designer were hired to create a logo for a exclusive personal trainer who really likes dolphins and the color green, the designer's job would be to create a logo that looks high-end, strong or active, while including that color and imagery. The graphic designer takes all those puzzle pieces and puts them together into a cohesive final product.
The same is true for all design projects. The graphic designer's task is to take the company's logo, colors, photos and message, and put those together in a way that is recognizable and easy to understand. For example, if a graphic designer were creating a magazine ad for a furniture retailer's summer sale, the ad would definitely need to include these crucial pieces of information:
What is the sale event?
How long does the sale last?
What are the details or restrictions of the offer?
Where is the store or the website the customer should visit?
What is the address and phone number for the store?
What is the call to action (what should the customer do next?)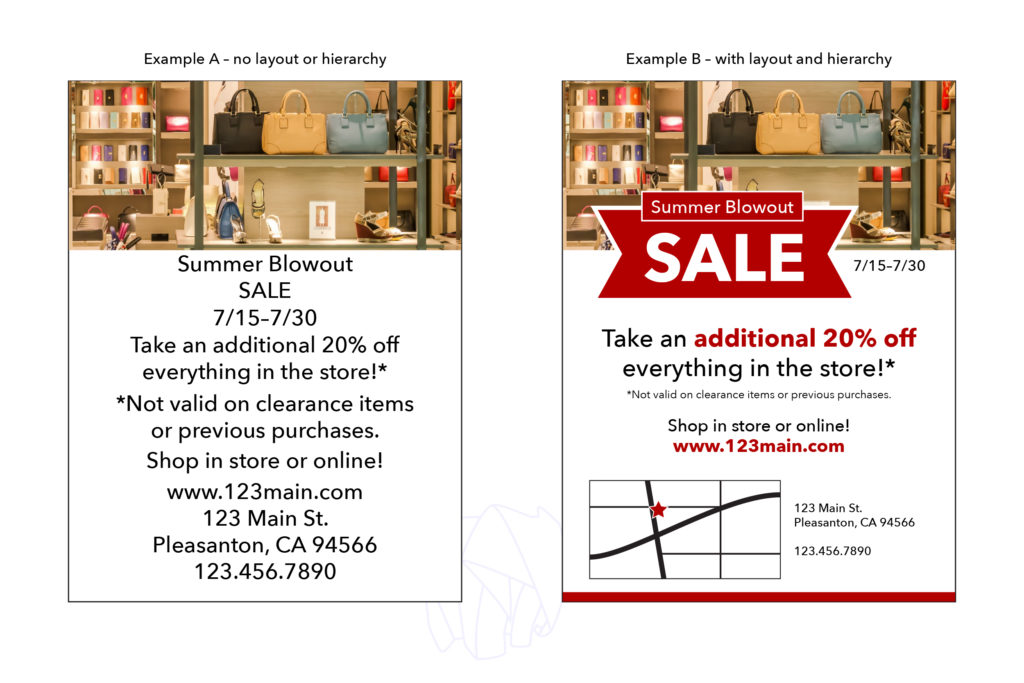 The designer's task is to put all that information together in the space allotted without making it look cluttered or confusing. Furthermore, there should be a hierarchy to how the information is presented. If all the text were the same size and color, the ad would look like an essay, and it would attract no one's attention. In this case, the biggest and boldest text will probably be 'SALE', followed by the company's name, logo or contact information, and the smallest text on the page will be the restrictions and limitations.
Gathering all the information necessary to each design, determining the hierarchy of information and arranging all the text and images in the space allowed while making it all look good is the visual problem solving that is graphic design.
Ok great, but what does a graphic designer actually do?
Lay out any digital or printed project that needs to look good and convey a message, such as:
Logos
Business cards
Flyers / brochures
Door hangers
Banners / posters
Menus
Canopies / tradeshow booths
Signage
Window graphics
Infographics
Car wraps
And More!
Need some help figuring out your messaging for your next ad campaign? I'd love to help! Contact us today for a FREE design consultation.